AVAYA 9611G IP Phone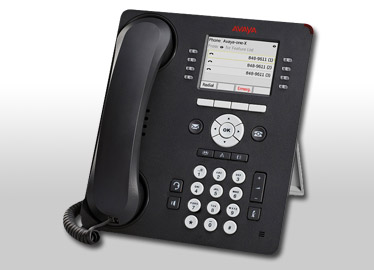 This model includes integrated gigabit and a USB interface. It has a 3.5 inch graphical color display with a white backlight and graphical labels that can be administered centrally. In select countries and regions, the 9611G deskphone is available as a global model, without English language text on the faceplates. Also, a contact center model provides simplified access to greetings, in-queue call monitoring, agent status updates, and more.
Avaya 9611G IP DeskphoneProvide everyday users with enriched communications capabilities
Enabling customers to transition easily to the best of IP phone technology, the 9611G IP deskphone delivers intelligent communications with a traditional look and feel, graphical color display, high definition audio quality with full duplex speaker, and a wideband handset and headset. Competitively priced and high-performing, it supports a USB interface, integrated Gigabit Ethernet, a secondary Ethernet port, and up to three 12 or 24 Button Expansion Modules. Part of the 9600 Series IP Deskphones, the 9611G leverages your enterprise IP Network to deliver sophisticated communications from headquarters or remote locations. Integrated with the Avaya Aura® and IP Office™ Platforms, the 9611G's evolutionary approach optimizes communications through a flexible architecture that leverages existing investments and accommodates changing business needs.
Key Features and Benefits
• Delivers high-definition audio that can increase productivity by reducing fatigue and provides easier-tounderstand multi-party calls using the wideband audio codec in the handset and headset
• Facilitates access to information through an easy-to-read, high resolution color display and a permanently labeled Navigation Cluster (Up/Down, Left/Right, OK)
• Delivers visual queues that can speed task management through 8 Red/Green LED buttons
• Helps increase productivity through context-sensitive graphical interfaces
• Simplifies call control on the display using softkeys to transfer, conference and forward calls and to access everyday processes including third party applications such as companywide corporate directories
• Provides consistency through a common Avaya one-X® interface (including mobile endpoints)
• Wired/wireless headset compatible • Enables efficient, high-speed call management through support for up to three 12 or 24 Button Expansion Modules
• Supports reduced energy consumption and costs through Power-over-Ethernet Class 1 design with "sleep mode"
• Provides choice through integrated Gigabit Ethernet and USB interface support • Accommodates advanced unified communications solutions with Session Initiated Protocol (SIP) based infrastructure