CISCO IP Phones in Dubai
The Cisco IP Phones delivers easy-to-use, highly secure voice communications. Cisco Intelligent Proximity integrates telephony features with your personal mobile devices. Options, including support for Wi-Fi networks and third-party call control, offer added flexibility. Cisco IP phones have the business features we need. They are also very affordable so we were able to put phones throughout our office making it easier for our staff to work without having to be at their desk. Cisco IP phones can provide VOIP communication over IP Network.
The Cisco IP Phones portfolio includes an impressive array of user-friendly, full-featured phones that can meet the needs of your entire organization, from:
The company lobby to the desk of your busiest managers
The manufacturing floor to the executive suite
The home office
A branch-office site to a commercial location
Cisco SPA300 Series IP Phones
The Cisco SPA 300 Series IP Phones feature:
Wideband audio for exceptional voice clarity and enhanced speaker quality
Monochrome display (SPA303) for ease of use, aesthetics, and on-screen applications
Support for hosted IP telephony environments or an IP private branch exchange (PBX)
Easy installation and highly secure remote provisioning, and web-based configuration
Remain in touch with added freedom for in-campus and work-at-home employees with the SPA302D Multi-Line DECT Handset.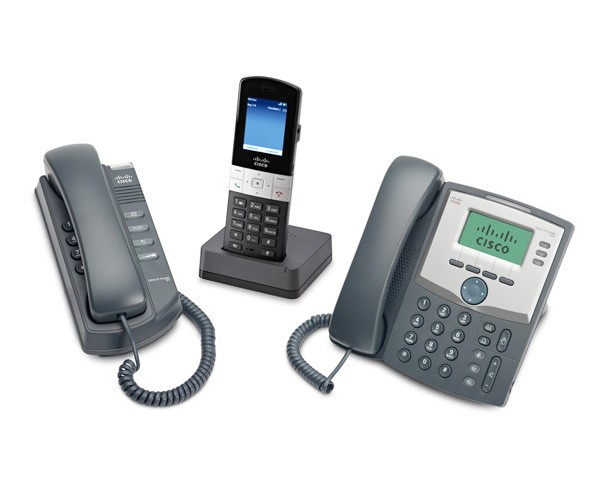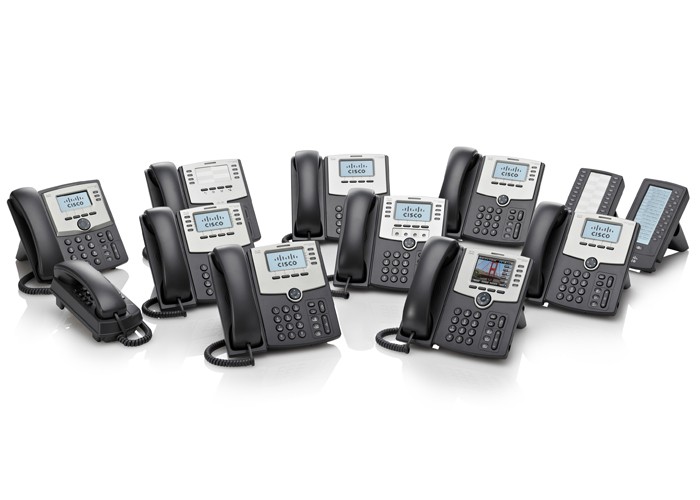 Cisco SPA500 Series IP Phones
Cisco SPA500 Series IP Phones are affordably priced, reliable, and stylish.Intuitive and easy-to-use, they offer excellent user experience, with wideband audio to connect employees and offices, application support to enhance productivity, and encryption for enhanced security.
Full-Featured IP Phones
Wideband audio for voice clarity and enhanced speaker quality
Monochrome backlit display for ease of use, aesthetics, and onscreen applications
Support for Bluetooth
Support for up to two SPA 500S or SPA500DS expansion modules
The SPA 525G model provides a color display and supports Wi-Fi and the ability to view and play back MP3 files and photos.
Cisco Unified IP Phone 7900 Series
The Cisco Unified IP Phones 7900 Series provides:
IP phones with color liquid crystal display (LCD), including dynamic soft keys for call features and functions
Support for information services, including Extensible Markup Language (XML) capabilities to extend IP phone systems
The capability to customize XML-based services to let users access a variety of information, such as stock quotes, employee directories, and web content
On-campus mobility using voice over wireless LAN with the Cisco Unified Wireless IP Phone 7925G to extend advanced unified communications capabilities for mobile workers.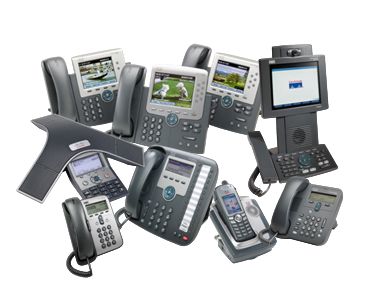 Cisco IP Phones
Cisco IP Phones, which include:
Affordable, basic and specialty voice communications endpoints: Cisco SIP Phone 3900 Series and Cisco IP Phone 6900 Series.
Next generation voice communications endpoints: Cisco IP Phone 8800 Series supporting BYOD telephony feature integration •
Business collaboration endpoints: Cisco IP Phones 8900 Series
General business voice communications endpoints: Cisco IP Phone 7800 Series and Cisco IP Phone 7900 Series
Professional collaboration endpoints: Cisco IP Phones 9900 Series
IP endpoint multimedia applications
Analog telephone adaptors and accessories