GRANDSTREAM GXP1628 HD IP PHONE DUBAI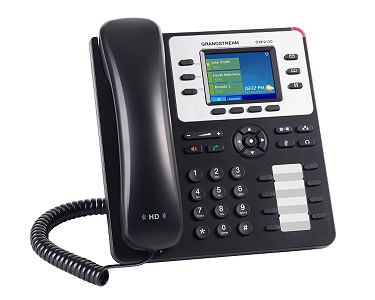 The GXP1628 is a powerful IP phone for small-to-medium businesses (SMBs). This Linux-based model includes 2 lines, 3 XML programmable soft keys, 8 BLF keys and 3-way conferencing.GRANDSTREAM GXP1628 HD IP PHONE DUBAI. A 132×48 backlit LCD screen creates a clear display for easy viewing. Additional features such as dual switched gigabit network ports, HD audio, multi-language support, integrated PoE, and call-waiting allow the GXP1628 to be a high quality, versatile and dependable office phone.GRANDSTREAM GXP1628 HD IP PHONE DUBAI.
132 x 48 backlit LCD display.
2 dual-color line keys (with 2 SIP accounts and up to 2 call appearances), 3 XML programmable context-sensitive soft keys, 8 BLF keys, 3-way conference, multi-language support
Dual-switched Gigabit network ports, integrated PoE, HD wideband audio, full-duplex hands-free speakerphone with advanced acoustic echo cancellation, Electronic Hook Switch (EHS) with Plantronics headsets
Grandstream GXP1628 Small Business HD IP Phone
Protocols/Standards
SIP RFC3261, TCP/IP/UDP, RTP/RTCP, HTTP/HTTPS, ARP/RARP, ICMP, DNS (A record, SRV, NAPTR), DHCP, PPPoE, SSH, TFTP, NTP, STUN, SIMPLE, LLDP-MED, LDAP, TR-069, 802.1x, TLS, SRTP
Network Interfaces
Dual switched auto-sensing 10/100/1000 Mbps Ethernet ports, integrated PoE
Graphic Display
132 x 48 backlit graphical LCD display
Feature Keys
2 line keys with dual-color LED and 2 SIP accounts. 3 XML programmable context sensitive soft keys.5 (navigation, menu) keys. 13 dedicated function keys
Voice Codecs
Support for G.711μ/a, G.722 (wide-band), G.723(pending), G.726-32, G.729 A/B, in-band and out-of-band DTMF (In audio, RFC2833, SIP INFO)
Headset Jack
RJ9 headset jack (allowing EHS with Plantronics headsets)
HD Audio
Yes, HD handset and speakerphone with support for wideband audio
QoS
Layer 2 QoS (802.1Q, 802.1P) and Layer 3 (ToS, DiffServ, MPLS) QoS
Security
User and administrator level access control, MD5 and MD5-sess based authentication, 256-bit AES encrypted configuration file, TLS, SRTP, HTTPS, 802.1x media access control
GRANDSTREAM GXP1628 HD IP PHONE DUBAI.