PANASONIC BUSINESS PHONE SYSTEMS KX-NS1000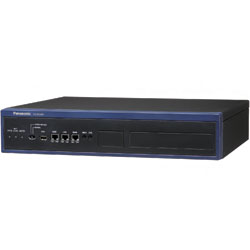 IP Communication Platform (up to 1,000 extensions and 16 multi-site locations)
Model # KX-NS1000
Centralized multi-site web based telephony and unified communication platform
Reliable Uptime with built-in back-up solution
Highly flexible deployment options with VoIP, digital and SIP
Wide range of application support
Two-year standard warranty
Unified Messaging
A streamlined IP communications platform for small to mid-sized businesses, the KX-NS1000 is designed to grow with your business. The platform is easily scalable up to 1,000 extensions and over 16 branch locations, making it also ideal for larger organizations that require an enterprise class solution.
Work from Anywhere
Unify your businesses voice, fax and email with full, built-in voice mail and unified messaging along with an optionally integrated fax server. Listen to your voice messages by phone or receive them in your email inbox, then play or delete messages directly from the email client. Send and receive faxes as email attachments and enjoy the convenience of an electronic fax archive without the clutter and environmental impact of printed sheets of paper.
Multi-Site Networking
The workplace has become dispersed with branch offices and teleworkers located across cities and
states and around the globe. Working flexibly from a remote office has become the norm, and your
workers expect fully transparent functionality for optimum business efficiency. Create virtual teams across
networked sites and share resources efficiently, including call distribution, centralized messaging and
conferencing.
Enhanced Collaboration
The pre-installed Panasonic Communication Assistant productivity application suite enhances unified
communications and collaboration with visual control of calls and messages from a PC. This includes
point-and-click call control, presence (with calendar integration), instant messaging, integration with
Microsoft Outlook and group conferencing, as well as door phone and IP camera
integration.
Add integration with popular, off-the-shelf CRM applications, to access incoming caller information and more smartly target customers and deliver goods and services.
Communication servers used for business should provide solutions to current real world business requirements, such as: simplifying and improving communications, lowering costs, improving productivity, supporting SOHOs and diversifying the workplace. They should do all of these while flexibly adapting to the way each organisation works.
The KX-NS1000 Business Communications Server by Panasonic is designed to deliver these solutions by integrating hardware and software components in a modular way, allowing you to tailor a communications system to your specific needs.
Easy Setup
Even at remote locations, such as the homes of teleworkers, IP phones can be easily installed from a single site and used as extensions.
The same method can be used to extend a VPN to the entire office network for more secure communication.
Gradual IP Migration to Suit Your Budget
In addition to customers seeking total IP migration, the KX-NS1000 supports phased implementation of future IP migration for customers who wish to utilize existing equipment.
Call Centre Solution
Voice guidance for customers and call data can be output to reports and analyzed for improved customer satisfaction. Call data can be saved to an external server and exported as necessary.
Wireless Solutions
Softphones and desk phones can be paired and used with a single extension number, which leads to improved work efficiency.
Varied Terminal Line-up
A wide range of terminals and handsets are available to meet various user needs.
System Capacity
Maximum Trunks
The KX-NS1000 supports the following number of trunks.
Type
KX-NS1000
Stand-alone
System
KX-NS1000
Stand-alone System
with Legacy GW*1
KX-NS1000
One-look
Networking
KX-NS1000
One-look Networking
with Legacy GW*1
Total Number
of Trunks
256 ch
256 ch
600 ch
600 ch
H.323
96 ch
96 ch
128 ch
128 ch
SIP
256 ch
256 ch
256 ch
256 ch
BRI
8 ch
256 ch
128 ch
600 ch
PRI23

23 ch

230 ch

368 ch

600 ch

PRI30
30 ch
256 ch
480 ch
600 ch
T1
N/A

240 ch

N/A

600 ch

E1
N/A
256 ch
N/A
600 ch
Analogue
2 lines
256 lines
32 lines
600 lines
Maximum Terminal Equipment
The following shows the number of each terminal equipment type supported by the KX-NS1000.
Type
KX-NS1000
Stand-alone System
KX-NS1000
Stand-alone System
with Legacy GW*1
KX-NS1000
One-look Networking
KX-NS1000
One-look Networking
with Legacy GW*1
Telephone
Total Number of
Extensions
640
640
1000
1000

SLT

2
480
32
1000

DPT

N/A
320
N/A
512

APT

N/A
160
N/A
336
IP-PT*2
640
640
1000
1000

SIP

640
640
1000
1000
SIP Phone*3
640
640
1000
1000

KX-UDT Series

255
255
255
255
DSS Console
N/A
64
N/A
64
CS
64
64
128
128

DPT-CS (2ch)

N/A
64
N/A
128

DPT-CS (8ch)

N/A
32
N/A
64

IP-CS

64
64
128
128
PS
512
512
512
512
Voice Processing
System (VPS)
N/A
4
N/A
8
Doorphone
1
33
8
64
Door Opener
1
33
8
64
External Sensor
1
33
8
64