Avaya IP Office 500 Dubai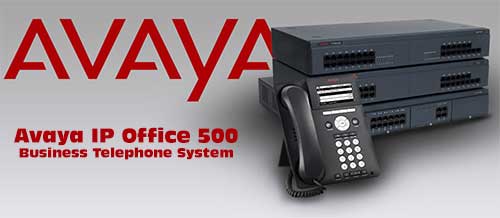 The IP500 system is fully modular and expandable, designed to be grown with your business requirements by adding extension and line cards and modules to the core system processor.
The system will support up to 270 digital, VoIP telephone extensions and analogue telephones / devices simultaneously.
ISDN lines, Analogue and SIP trunks are fully supported.
A range of telephony and voicemail applications allows the system to integrate with computers and CRM databases, giving you extra functions via the desktop PC.
IP500 Main System Processor
The core system processor is capable of supporting up to 32 telephone extensions and 96 telephone lines.
If your business is not likely to need more than 32 telephones, the "Standard Edition" operating software is designed for the single "all in one box" solution and will be adequate for all of your telecoms needs.
WILL YOU KEEP UP WITH THE SPEED OF BUSINESS?
SEAMLESS MIDMARKET COLLABORATION—VOICE, VIDEO, MOBILE—ON ANY DEVICE
Change the way your mobile, distributed workforce collaborates. Deliver an engaging experience for voice, video, and mobility on virtually any device. Simple enough to run on an appliance, powerful enough to support 2,000 users with virtualised software. Easy to use. Easy to manage. Exceptional value.
1. Flexible Configurations
Choose a deployment model that matches your infrastructure objectives–from a simple appliance to virtualised software in your data center, with options in between.
2. A Complete Midmarket Collaboration Solution
Enjoy the peace of mind that comes with a complete, integrated solution—collaboration software plus multichannel contact centres, networking, security, and video—from a single source.
3. Lower Collaboration TCO
Discover how affordable collaboration can be with IP Office–a smaller initial investment, reduced maintenance, and decreased power consumption.
Build a Full-Size Contact Centre for Your Midmarket Business
Improve your customer experience and contact centre agent efficiency when you add powerful, affordable, multichannel functionality for voice, email, and web chat to your contact centre. Avaya IP Office Contact Center is purpose built for businesses with from five to 100 agents. It combines Avaya customer experience leadership with the simplicity and value of IP Office.
Extension Modules
Upgrading to the IP500 "Professional" edition will allow you to add further extension modules to the system and expand beyond the 32-extension limit of the "Standard" IP500 edition.
The modules support either 16 or 32 devices, which can be either digital for system telephones, or analogue for faxes, PDQs, conference telephones, DECT, payphones and more.
Take your business communications to the next level with the UK's most popular Converged VoIP telephone system.
Southern Communications are fully accredited suppliers and installers of Avaya IP500 and Avaya IP Office business phone systems, providing remote diagnostics and field-based phone system support services.
The Avaya IP500 phone system and IP Office Telephone Systems are the UK's most popular convergence-biased telephone systems. Powerful easy-to-use desktop applications with advanced mobility, conferencing and networking features make the Avaya IP500 first choice for many UK businesses.
Southern Communications have been supplying, installing and supporting Avaya telephone systems since 1999, and are a fully accredited Silver Business Partner for implementation and support of the IP500 and IP Office business telephone systems.