Gate and Parking Automation Dubai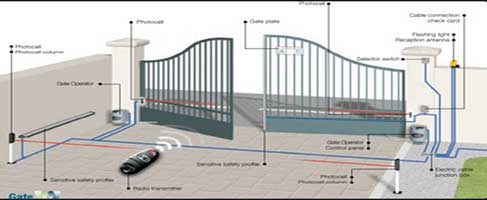 DOSTech can provide a complete range of automation solutions for car parking, traffic control, access, and traffic management. With a range of products and accessories from leading suppliers to meet all situations coupled with years of experience in installation & service, we will find the solution you require.
Total Solutions for all types of Access Control Systems and Specialists in the supply, installation, testing, commissioning & Maintenance of:
Gate Barriers
Dock Levelers
Parking Management System
Automatic Doors
Roller Shutters
Remote Controlled Garage Doors,
Sectional Overhead doors
Glass Doors
Sliding and swing Gates.
And all types of access control systems and solutions
SLIDING GATES
Sliding gates usually have a single door, which runs on a track with a ratchet.
They require a long and narrow space for the gate to slide along during the opening and closing phases. This type of gate is the ideal protection for wide entrances, entrances placed uphill or wherever the space inside the property is not sufficient to enable the opening of swing gates.
Whenever you have to choose the ideal motorization you need to consider the weight and, when necessary, the length of the door.
They are equipped with sensitive edges for maximum safety during the closing phase: the anti-crushing/obstacle detection function stops and reverses the movement of the gate in case its movement is blocked, thus avoiding damage to people and objects
SWING GATES
Swing gates open with a rotation around a fulcrum, just like an ordinary door. When the gate's doors open, they usually turn inward thus requiring specific internal space.
Knowing the dimensions and the approximate weight of the leaf gate, the sturdiness of the post and the leaf gate, the material it is made of, is necessary in order to choose the ideal automation system.
BARRIER ARM
Barrier arms are the ideal solution if you need to control vehicle transit in public parking areas, car parks, private and block of flats entrances, even when the traffic is heavy.
They are made of a motor body and control unit, protected by a case with different finishes, in particular, in stainless steel, for applications in critical environment conditions like heavy traffic areas or near the sea.

The choice of the model of automatic barrier arms depends on the width of the entrance and the type of use.