Video Conferencing System Dubai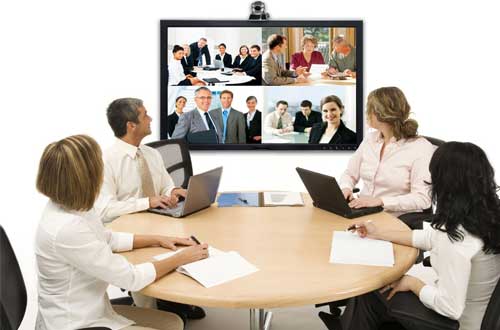 DOS Technologies in the UAE constantly review all manufacturers' video conferencing products and services in Dubai, UAE.We are  are now supplying Polycom video conferencing products in the UAE. We specialise in Polycom HDX video conferencing products, video conference services and portable conference units as well providing unit hire and supplying equipment and video conference room hire. Video Conferencing System Dubai. Video Connections provide professional advice and all the latest Polycom video conferencing technology & full support and service, for all your business needs and locations.
By installing Polycom video conferencing, you have the choice to which meeting you physically attend, or hold over a live video link. By substituting 35% of your physical meetings with video meetings you will immediately recoup the cost, of the equipment installed at three independent locations.
We supplies, installs and maintains all the very latest Polycom video conferencing products in Dubai and Across the UAE
Our Video Conferencing equipment is not only designed with large video conferences in mind using the Polycom ViewStation range, but also for the home office user with a PC desktop with the Polycom ViaVideo.
They allow high-quality videoconferencing, with ISDN and IP network connectivity, multimedia support, AES encryption, videotelephony, simultaneous dual-stream video and even Voice Tracking cameras.